31st December 2016  :  Sky Arts  :  André Rieu's New Year's Eve Punch (2003)
23rd December 2016  :  S4C  :  Carolau Llandudno
Available on S4C iPlayer 'On Demand' for 35 days after first broadcast
18th December 2016  :  Venue Cymru  :  Carolau Llandudno (Carols From Llandudno)
Russell headlined the Daily Post's 22nd 'Carolau Llandudno' from Venue Cymru's arena in support of Ty Gobaith Children's Hospice.  The image above is from their gallery of pictures.  Read more about Russell's visit to the hospice – including a video interview with Russell – before the concert and the Daily Post's review.   Nobody sleeps while Russell's on! Watch the (edited) concert on S4C on Friday 23rd December from 8.25 pm and Saturday, Christmas Eve, from 11.45 pm.
13th December 2016  :  St. Paul's Cathedral  :  Childline's 'Merry Little Christmas'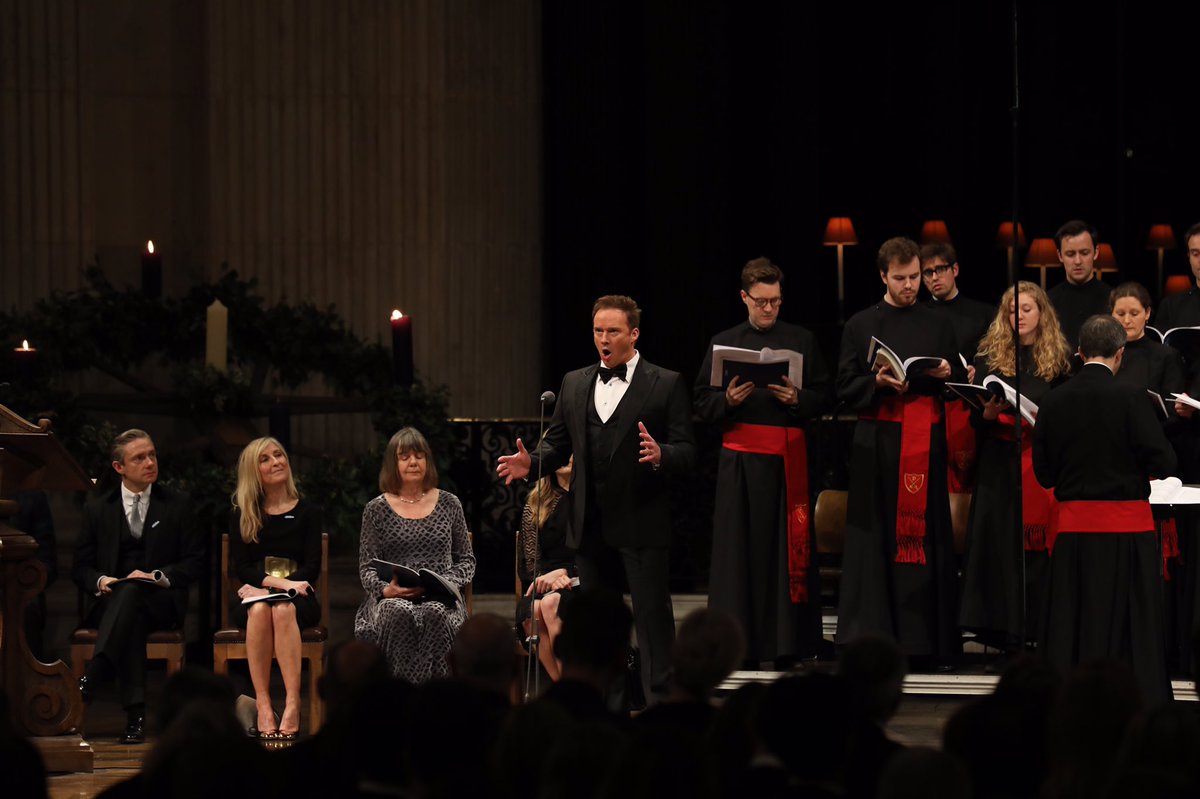 An exclusive recording of the concert was broadcast on Classic FM's 'The Full Works' programme, hosted by Jane Jones, on Tuesday, 20th December that should be available soon on their Listen Again facility.  Russell can be heard singing Panis Angelicus at 31 minutes into the programme and then Silent Night approximately 53 minutes in before joining in a finale to close.
12th December 2016  :  Quay Theatre, The Lowry, Salford & BBC Radio Manchester  :
Mike Sweeney's Christmas Charity Extravaganza  –
After a brief chat on stage with Mike, Russell sings "Do You Hear What I Hear?" before joining in with the closing "We Wish You A Merry Christmas".
From 2 hours 49 minutes (02:49:50) into the programme on BBC iPlayer Radio
Available on BBC iPlayer Radio for 29 days after first broadcast
+
9th December 2016  :  ASDA, Leeds  :  Christmas Big Brunch  –
Russell performed a brief lunchtime set for over two thousand ASDA colleagues as part of their quarterly performance review, appropriately combined with festive celebrations, at the company's Head Office in Leeds.  (Thanks to Kirsty Marks for the Tweet).
9th December 2016  :  BBC 1  :  BBC Breakfast
Russell makes a very brief cameo appearance on BBC Breakfast's Advent Calendar …
25th November 2016  :  BBC 1  :  BBC Breakfast
Russell was briefly on Friday's edition of BBC Breakfast to tell them about the new album.  Again, there was no performance but Charlie asked if it was possible for anyone to learn to sing; Russell said that there was a way to see if someone had the necessary potential and had Charlie doing 'fricative' scales.
No BBC iPlayer availability for this programme
18th November 2016  :  BBC 2  :  Strictly Come Dancing – It Takes Two
Russell was on It Takes Two's Celebrity Panel … no singin' or dancin' tonight but most entertaining.
Available on BBC iPlayer (UK Only) for 29 days after first broadcast
17th November  :  Channel 5  and Channel 5+1  :  The Wright Stuff
Russell joined Yasmin Alibhai-Brown and Dominic Holland on Matthew Wright's panel for the day's news and topical subjects.  The episode is available online via My5 but in the UK only; those outside the UK might like the following clips via Twitter …
16th November  :  ITV 1 and ITV1+1  :  Loose Women
Russell was on all too briefly in the final part of ITV's Loose Women.  The episode is available to watch for the next 7 days via the ITV Hub.
After the 7 days, try this DailyMotion Channel.
13th November  :  BBC 1  :  BBC Songs Of Praise  :  Remembrance Sunday edition
Russell sings The Lord's Prayer after Sally Magnusson's introduction at 25 minutes into the programme.
Available on BBC iPlayer (UK Only) for 29 days after first broadcast
11th November  :  Trafalgar Square  :  'Silence in the Square'  :  Armistice Day event
After being streamed live, the entire event has been made available by the Royal British Legion via YouTube.   Russell is on towards the end, from 52 minutes into the recording.
10th November  :  HMV Reading  :  CD Signing
8th November  :  HMV Sheffield  :  CD Signing
7th November  :  BBC 1  :  The One Show  :  'Up My Street'
Available on BBC iPlayer (UK Only) for 29 days after first broadcast
7th November  :  HMV Gateshead  :  CD Signing
4th November  :  HMV Manchester  :  Performance & CD Signing
25th October  :  The Cavern Club, Liverpool  :  Album Showcase
30th September  :  Sky Arts  :  Return Of The Voice Live At The Royal Albert Hall  :  Repeat
9th August  :  The Octagon, Yeovil  :  Songs From The Heart Tour
6th August  :  Venue Cymru, Llandudno  :  Songs From The Heart Tour
5th August  :  Philharmonic Hall, Liverpool  :  Songs From The Heart Tour
3rd August  :  Charter Theatre, Preston Guildhall  :  Songs From The Heart Tour
30th July  :  Alvaston Hall Hotel  :  Warner Leisure 'Star Break' Weekend
29th July  :  Bristol Hippodrome  :  Songs From The Heart Tour
28th July  :  Wyvern Theatre, Swindon  :  Songs From The Heart Tour
23rd July  :  Derngate Theatre, Northampton  :  Songs From The Heart Tour
22nd July  :  Theatre Severn, Shrewsbury  :  Songs From The Heart Tour
21st July  :  Theatre Severn, Shrewsbury  :  Songs From The Heart Tour
18th July  :  Shanklin Theatre, Isle of Wight  :  Songs From The Heart Tour
15th July  :  Sheffield City Hall  :  Songs From The Heart Tour
14th July  :  The Churchill Theatre, Bromley  :  Songs From The Heart Tour
11th July  :  New Victoria Theatre, Woking  :  Songs From The Heart Tour–
9th July  :  The Grand Hall, Scarborough Spa  :  Songs From The Heart Tour
4th July  :  His Majesty's Theatre, Aberdeen  :  Songs From The Heart Tour
3rd July  :  Eden Court, Inverness  :  Songs From The Heart Tour
2nd July  :  Perth Concert Hall  :  Songs From The Heart  Tour
26th June  :  S4C  :  Llangollen International Eisteddfod 2011  :  Repeat
21st June  :  Cliffs Pavilion, Southend  :  Songs From The Heart Tour
18th June  :  The Marlowe Theatre, Canterbury  :  Songs From The Heart Tour
17th June  :  Grove Theatre, Dunstable  :  Songs From The Heart
15th June  :  William Aston Hall, Wrexham  :  Songs From The Heart Tour
11th June  :  Milton Keynes Theatre  :  Songs From The Heart Tour
10th June  :  Weymouth Pavilion  :  Songs From The Heart Tour
9th June  :  Playhouse Theatre, Weston-super-Mare  :  Songs From The Heart Tour
4th June  :  Grand Theatre, Wolverhampton  :  Songs From The Heart Tour
3rd June  :  Town Hall, Cheltenham  :  Songs From The Heart Tour
Soophia Foroughi is Russell's guest artist at Cheltenham Town Hall
27th May  :  Corn Exchange, Kings Lynn  :  Songs From The Heart Tour
26th May  :  Corn Exchange, Kings Lynn  :  Songs From The Heart Tour
14th May  :  Waterside Theatre, Aylesbury  :  Songs From The Heart Tour
13th May  :  Assembly Hall Theatre, Tunbridge Wells  :  Songs From The Heart Tour
7th May  :  The Sands Centre, Carlisle  :  Songs From The Heart Tour
6th May  :  Civic Hall, Darlington  :  Songs From The Heart Tour
4th May  :  City Hall, Hull  :  Songs From The Heart Tour
30th April  :  Grand Theatre, Leeds   :  Songs From The Heart Tour
28th April  :  The Playhouse, Whitley Bay  :  Songs From The Heart Tour
24th April  :  Royal Concert Hall, Nottingham  :  Songs From The Heart Tour
24th April  :  Sky Arts  :  Return Of The Voice Live At The Royal Albert Hall  :  Repeat
23rd April  :  The Dome, Doncaster  :  Songs From The Heart Tour
20th April  :  Princess Royal Theatre, Port Talbot  :  Songs From The Heart Tour
19th April  :  Millennium Centre, Cardiff  :  Songs From The Heart Tour
17th April  :  Sky Arts  :  Return Of The Voice Live At The Royal Albert Hall  :  Repeat
16th April  :  Opera House, Buxton  :  Songs From The Heart Tour
15th April  :  Bridgewater Hall, Manchester  :  Songs From The Heart Tour
13th April  :  De Montfort Hall, Leicester  :  Songs From The Heart Tour
10th April  :  Theatre Royal, Norwich  :  Songs From The Heart Tour
9th April  :  Warner Leisure Hotel, Sinah Warren, Hayling Island  :  Star Break
4th April  :  Forum Theatre, Billingham  :  Songs From The Heart Tour
1st April  :  Royal Concert Hall, Glasgow  :  Songs From The Heart Tour
29th + 30th March  :  Lyceum Theatre, Crewe  :  Songs From The Heart Tour

10th February  :  Sky Arts  :  Return Of The Voice Live At The Royal Albert Hall  : Repeat
9th February  :  Sky Arts  :  Return Of The Voice Live At The Royal Albert Hall  :  Repeat
+