________________________________________________________________
Follow the  purple links  for more on that topic.
________________________________________________________________
31st December 2014
Russell's New Year Greeting via Twitter…
28th December 2014
The Liverpool Echo says, "Russell Watson stole the show as thousands basked in the sun at a stunning Mersey River Festival celebration" in its Year In Review.
24th December 2014
Russell leads the visitors to Smooth Radio's "Carols On The Cobbles" charity event in some festive singing, including "I'm dreaming of a WET Christmas."  Typical Manchester weather!   There are some great pictures in the Mail Online's review.
21st December 2014
Next year's "Intimate Evenings With Russell Watson" are proving so popular that The Curve Theatre in Leicester has added an extra performance on Tuesday 5th May. 
Tickets available now.
20th December 2014
Recently posted to YouTube by the Katy Holmes Trust is a video of several short interviews from September's 'soft launch' of their North West Pride Awards to be held at the Mercure Dunkenhalgh Hotel & Spa on 21st November 2015 and Russell explains his support for the Trust towards the end of the clip.
18th December 2014
Russell starred in Age UK's 'Love Christmas' celebrity carol concert at St. Paul's Cathedral, London.  An Age UK YouTube video shows some very brief highlights but it's expected that there will be more to appreciate in their broadcast on The Wireless  (available outside the UK)  from 6pm Christmas Eve and repeated from 1pm Christmas Day.
17th December 2014
Butterfly Ball Events staged a 'Candlelit Christmas' at Blackburn Cathedral to raise funds for the Prince's Trust.  Supporting Russell were the senior choir of Westholme School, the Dishforth Military Wives Choir and Blackburn and Darwen Brass Band.
While Russell was in Blackburn he was also to be seen on ITV's 'Surprise Surprise' when he made a special delivery to a deserving volunteer.  The programme will be repeated on Saturday morning, 20th December, from 11am or you should find it on ITVPlayer, in Part 3 of the show, from around 24 minutes.
Russell was also to be seen and heard in a special video recording of Panis Angelicus, made while he was at Derby Cathedral recently on his own 'Candlelight Christmas' Tour, and played there during Radio Derby's Carol Concert that will be broadcast on Christmas Eve from 6pm and again on Christmas Day from noon.
16th December 2014
On his way to Gorton Monastery yesterday, for the last date on his Candlelight Christmas tour, Russell called in to Smooth Radio to chat with presenter Carlos about Smooth Northwest's "Carols On The Cobbles" that will be held on Christmas Eve (daytime) at the Coronation Street Studio Tour on Quay Street, Salford and more besides…

6th December 2014
It's definitely a "red letter day" with the 'out of this world' news that NASA have chosen to celebrate the successful re-awakening of their New Horizons spacecraft, almost 3 billion miles from Earth, with a most appropriate song from Russell …
More from PBS Newshour 
27th November 2014
By popular demand, due to the Tuesday night performance at the Corn Exchange, Kings Lynn, on 21st April 2015 having already sold out, a second "Intimate Evening" with Russell has been scheduled for the following night, Wednesday 22nd April and tickets are on sale now.
25th November 2014
Tickets for 'An Intimate Evening With…' Russell at The Concert Hall, Perth, Scotland, on Saturday 9th May 2015 went on sale today

24th November 2014
Durham Cathedral is the venue for the  first of Russell's  'Candlelight Concert' shows and it's an absolute smasher!  Thanks to Peter of Cuffe & Taylor for the picture via Twitter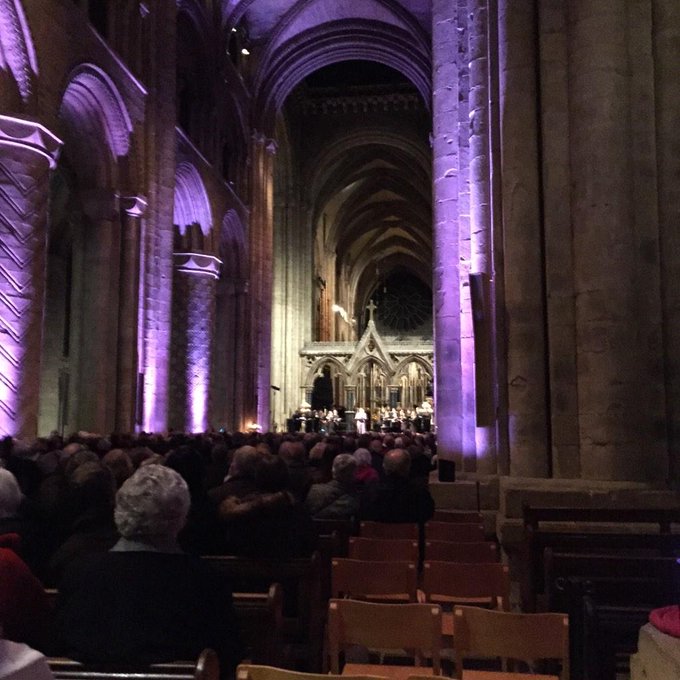 +
Tickets for 'An Intimate Evening With'… Russell at The Winding Wheel, Chesterfield on Friday 15th May 2015 went on sale today.
20th November 2014
The Liverpool Echo (online) publishes a great interview with Russell ahead of the Candlelight Christmas concert at the Anglican cathedral on 13th December.
19th November 2014
A new 'Raymond Gubbay' promotion starring Russell, supported by Natasha Marsh, is formally announced for next year… "The Best Of British" is at the Royal Albert Hall on Saturday 6th June 2015 at 2.30pm.  Tickets on sale now.
18th November 2014
Tickets for Hartlepool Male Voice Choir's "Summer Celebrity Concert" go on sale from the Tourist Information Centre, Christ Church, Church Square, Hartlepool.
Telephone 01429 890000 or book online.
+
Amazon lists a new 3 disc 'Various Artists' compilation album from Decca titled "The Classical Album 2015" for release on Russell's birthday, 24th November.  Russell features on Disc 1  Track 5  with  You Raise Me Up and  Disc 2  Track 18  with Nella Fantasia.
17th November 2014
Pete Price of City Talk 105.9 radio station, Liverpool, had a lengthy chat with Russell that couldn't be heard online outside the UK but he has been kind enough to make it available now as an audio clip that can be.  Thanks, Pete.
13th November 2014
Russell was one of the guests on Channel 4's "Daily Brunch" programme that can be seen on their website for the next month.
+
A report by "The Olive Press" tells of Russell's impromptu performance for fellow diners at a restaurant in Spain on his recent holiday.  They refer to him "gearing up for a world tour" but perhaps that refers to his 'Intimate Evenings" tour and something was possibly 'lost in translation'…  that or he'll spring another surprise on us all shortly.
12th November 2014

Catch Russell on Channel 4's "Daily Brunch" tomorrow Thursday 13th November…
It's usual for these programme to be available online after transmission.
It'll be Episode 24.
+
Russell's Facebook page announces that he's to be on a new compilation album, "Classical Christmas Voices" to be released on 24th November (his birthday, if you didn't know).  He will sing  Abide With Me.  The album will be a 3 CD set or available as MP3 download; only a few tracks will be available to buy separately.

Russell  sings  Abide With Me   :   Disc 2  Track 14
Russell has recorded this before, of course, on his  Anthems  CD.
+
Some additional seating is now on sale for Russell's "sold out" Candlelight Christmas concert at Beverley Minster, North Yorkshire.  They're described as having 'restricted views' (from the sides) priced at  £27.50p
7th November 2014
According to Twitter, Russell will be one of Jason Manford's special guests at his fundraising Christmas Carol Concert at Bridgewater Hall on Tuesday 16th December in aid of The Children's Adventure Farm.
Tickets are on sale now.
Lancashire Life  magazine's report on the 'soft launch' of The Katy Holmes Trust's 'North West Pride Awards' is now available to read, free of charge, online.   Please also see the item of 23rd September, below.
3rd November 2014
Not all venues on the "Intimate Evenings" tour are selling tickets yet and some expect not be able to do so for several weeks.  On the full list of venues we'll highlight in purple those that we know are available while those that are not will remain black.
Russell was on BBC Radio Derby, telling Andy Potter about his Candlelight Christmas tour and his concert at Derby Cathedral in particular.  The full programme is available until next Monday and includes air plays of Here Comes The Morning and Without You as well as one of Russell's favourites from his younger days, A Town Called Malice by The Jam.  Just (the first) part of their chat is available as an audio clip without the music but it won't 'expire'.
1st November 2014
Possibly prompted by a dozen or so of the venues having already released information on the 'Intimate Evenings' Tour, Russell posts the full list of venues and dates on his blog page but check out the poster – could be a collectors' item.
31st October 2014
Several more venues have announced 'Intimate Evenings' with Russell ahead of his own major announcement on Monday and some are already selling tickets.  Known events have been added to the 'Forthcoming Appearances' page and have been 'posted'.
30th October 2014
Announced late yesterday…  with the kind permission of The Dean of Blackburn, The Very Reverend Christopher Armstrong, Russell is to star in a  special, one-night only, "Candlelit Christmas" concert, supported by the Dishforth Military Wives choir and Blackburn & Darwen Brass Band, in aid of The Prince's Trust at Blackburn Cathedral on Wednesday 17th December 2014 from 7pm.
Ticket on sale NOW from the Box Office at King George's Hall, Blackburn : 01254 582 579
29th October 2014
Yesterday, Russell's Twitter account said…
This is brilliant news as it should put a venue within reach of just about anyone who wants to attend a concert.  However, some venues have already been making dates known and announcing ticket sales, some starting tomorrow, Friday 31st October:  Please see the 'Posts' or 'Forthcoming Appearances' pages for those that have become known already.
21st October 2014
Ticket agency "Ents 24" gave brief details late yesterday of an event to be held at Sturmer Hall, a hotel and conference centre in Suffolk, on Sunday 21st December.  It's billed as an additional date to Russell's 'Candlelight Christmas' tour although it appears not to be in a similar setting; in fact, looking at the type of function normally held there, it may be an entirely different experience… and there's mention of VIP tickets affording an after-show glass of wine by a log fire in Russell's company!
Little else is known and even the venue isn't able to provide full details at the moment.  Enquirers are being asked to wait until the event is put on their website.  For an idea of the venue and its facilities, please see their PDF brochure.
20th October 2014
Released today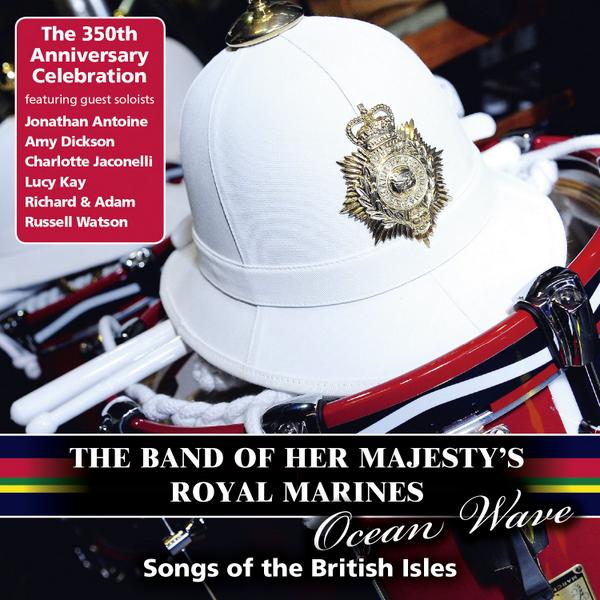 Russell is one of the guest soloists on this album released as part of the 350th anniversary of the Royal Marines and sings Rule Britannia at Track 14.
Full track list on Amazon.
9th  October 2014
Russell frequently entertains for The Prince's Trust and was at Highgrove House again on Thursday evening where some £41,000 was raised to support the Trust's work with young people.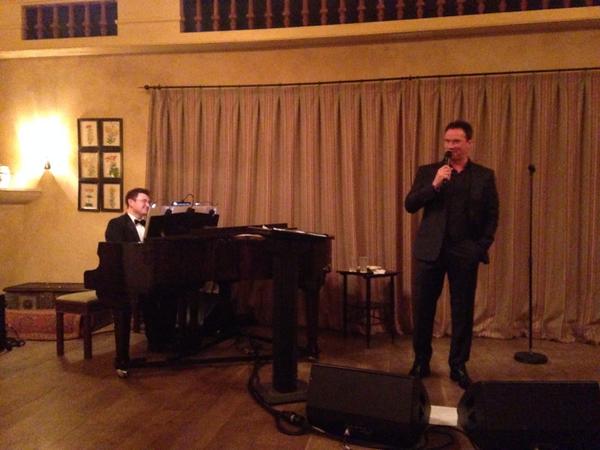 29th September 2014
The results of the poll taken to see which of the fans' favourite carols or hymns Russell should include on his 'Candlelight Christmas' tour have been released… Russell will sing all three of the top three choices! Brilliant!
23rd September 2014
Russell attends to support the 'soft launch' (press launch) of The Katy Holmes Trust's 'North West Pride Awards 2015' at the Mercure Dunkenhalgh Hotel in Hyndburn, Lancashire.
Afterwards, he and Paula Holmes go over to the BBC Radio Lancashire studios in Blackburn for a lengthy chat with presenter John Gillmore about the Awards.
Russell mentioned the possibility of a second charity concert being held at Preston Guildhall – the first having been held last December with the support of Jonathan Antoine and Russell's MD Robert Emery.
The programme is available to 'Listen Again' for the next 7 days.  Scroll to 2 hours 7 minutes.
20th September 2014
Kirsty Howard's 19th birthday is marked by Variety, the Children's Charity, hosting a special presentation to her for her charitable fund-raising since almost the day she was born.  Russell was on hand to entertain and to sing 'Happy Birthday', followed by The Impossible Dream.
Report, with their own video and photo gallery c/o the Manchester Evening News.
19th September 2014

Apparently this has been known about for a few days but we've only just spotted it this evening, sorry…
Russell is one of several soloists, including Jonathan Antoine and Charlotte Jaconelli to feature on a forthcoming album called 'Ocean Wave' by The Band of Her Majesty's Royal Marines.  It's already available to pre-order from Amazon.
+
The Katy Holmes Trust is to 'soft launch' its North West Pride Awards 2015 at the Dunkenhalgh Hotel & Spa next week, as the Lancashire Evening Post reports.  Russell is to be a special guest speaker in his capacity as a patron of the Trust.
11th September 2014
Russell invites fans to say which carols or hymns they'd like him to sing on his 'Candlelight Christmas' Tour.
Those who don't use Twitter or Facebook to follow his official posts can always email him or, while there's still time, drop him a line in the mail.  Please see our post for details.
5th September 2014
Tickets on sale for Russell's series of  "Candlelight Christmas" concerts.
3rd September 2014
Tickets on sale for  "Love Christmas" –  Age UK's celebrity carol concert at St. Paul's  Cathedral on 18th December.
1st September 2014
Both Cuffe & Taylor and Russell had previously Tweeted about some exciting news to come and today ticket agency Ents24 gave details of an event, "Love Christmas", to be staged in the magnificent setting of St. Paul's Cathedral on Thursday 18th December, featuring Russell with the wonderful Joanna Lumley and more.
25th August 2014
Russell had a busy weekend, being driven up and down the country to perform at the Lord Provost's Charitable Trust concert in aid of 'Cornerstone' in Aberdeen, then at Greenwich Music Time in London and then at Alvaston Hall, not too far from his home base in Cheshire.
28th July 2014

Paula Holmes of The Katy Holmes Trust – a charity of which Russell is a patron – has won through to the finals of the north west's Enterprise Vision Awards in the "Inspirational Women" category for all that she has done to create and promote the Trust in the search for treatments for childhood brain tumours.   She has been interviewed today by a panel of judges from the EVA but success also depends upon a public vote, so please consider voting for her. It only takes a couple of seconds to do and just requires a valid email address for validation purposes.    Click here to go to the voting page, scroll down a little – Paula is fourth on the list – then click the pink 'vote for me' button below Paula's picture.  Thank you.
+
The last two dates in 2015 for Warner Leisure Hotels 'Star Breaks' – Holme Lacy House and Nidd Hall Hotel – that we've had on our "Forthcoming Appearances" page for some time have now been confirmed on their website.
26th July 2014
A video made to promote Russell's first recording of Nessun Dorma has been posted to the Vimeo website.  It's well worth a watch.  Thanks to Alex Wainwright of D3 Video for posting it.
23rd July 2014
It appears that we are commanded to…
… which is Russell telling Colin Armstrong of the Evening Express a little about his "roller-coaster ride" of a career so far, ahead of the charity concert in Aberdeen.
17th July 2014
On Twitter and his Official Facebook Page, there's a request for suggestions for a new range of 'Russell Watson' merchandise.  Any ideas, please respond directly Russell HQ via either or both of those media.
14th July 2014
Earlier this evening Russell was on BBC WM (radio) talking with Richard Wilford (sitting in for Paul Franks) about the Armonico Consort charity and the AC Academy concert at Birmingham Symphony Hall.  Towards the end of their chat he gave some clues as to his future intentions. You can Listen Again on BBC iPlayer from 1 hour 46 minutes, for the next 7 days but, briefly, he's in the studio for the pre-production stage of his next album, due for release around Christmas 2015 (though he didn't specifically call it a "Christmas Album") and preparing for Christmas Concerts at home this year, while looking to go abroad next year – mentioning Australia, New Zealand, Asia and "hoping for a few dates" in the States.
+
Russell was on BBC Midlands Today's evening news programme with an item about the Symphony Hall concert and a video clip that can be viewed from outside the UK has been uploaded to that programme's Facebook Page.
13th July 2014
Armonico Consort recently posted that BBC1 TV's "Midlands Today" regional news programme would be featuring AC Academy's Monday night concert at Birmingham Symphony Hall on their early evening news (6.30pm-7pm) and that Classic FM would be running a commentary with images on their web page.
BBC "Midlands Today" have kindly confirmed that they'll be filming on Monday afternoon for the tea-time programme and that it is intended to include Russell.
If you're not local to the Midlands TV region you should find it on Sky channel 959 and it should be on BBC iPlayer shortly after the broadcast concludes.
BBC "Midlands Today" have their own Facebook Page and they intend to upload the news item to that, as well, although it may not be viewable outside the UK (we'll have to wait and see).
11th July 2014
Russell's 'holiday hotspots' from the July issue of Cheshire Resident magazine is now available to read, free of charge.
3rd July 2014
"Russell Watson's holiday hot spots" is a double-page feature by Jill Nash in the current (July) issue of Cheshire Resident magazine.  (Not the cover illustrated below).
:
Printed editions available by post from
Buy-A-Mag.co.uk
UK : £5
Europe : £8
Rest of the World : £10
or
as a digital issue from
Cheshire Resident
Worldwide : £2.99
:
:
::
::
28th June 2014
The Birmingham Post reports that Russell is to support Armonico Consort's AC Academy Youth Choir at a concert to be held at the Symphony Hall on 14th July.  Following his support for their Around The World In 18 Tunes concert at the Royal Albert Hall last year, Russell has now become an official ambassador for this charity.
27th June 2014
Russell was on BBC Radio York, as promised,  and chatted to Adam Tomlinson about his early career – revealing that his first steps in the world of musical entertainment were, in fact, as the 17 year old leader of a rock band called "The Crowd" – and the forthcoming Grand DéParty Concert at Huntington Stadium, York, on 4th July.   Scroll to 3 hours 14 minutes.
26th June 2014
Again on his Official Facebook Page it's announced that, ahead of next weekend's Grand DéParty at Huntington Stadium, Russell is to be on BBC Radio York tomorrow, Friday 27th around 3.15pm.
25th June 2014
On his Official Facebook Page and on Twitter, Russell is asking, "A very special lady turns 19 this year (Kirsty Howard). She has beaten the odds and raised over £5 million for Francis House Children's Hospice. If anyone deserves to be included on this new year's honours list, it should be Kirsty! Don't you agree?"
If you do, please go over to Russell's Facebook page and add your support to the comments.   Thanks.
23rd June 2014
Warner Leisure Hotels' "Star Break" Weekend with Russell performing on one night of the weekend 10th – 13th April 2015 at Sinah Warren Coastal Hotel, Hayling Island, Hampshire, has now been added to their bookings page –
19th June 2014
Sky Arts 2 are showing Russell's "Return Of The Voice" concert tonight from 8pm and again over the next few days…
17th June 2014
Russell and Simon Weston's support for the Service charities funded through the release of the HomeGround Anthem is highlighted on page 15 of the latest issue of Veteran's World.
14th June 2014
We wish Russell "All the best" for his performance of The HomeGround Anthem and more from around 2pm this afternoon aboard Tall Ship 'Mercedes' berthed in Hartley Quay, Liverpool, and for his interview with BBC Radio Merseyside from around 3pm.
The day appears to have been a huge success for the Festival and for Russell's promotion of the HomeGround Anthem.  Please see our post for more.
13th June 2014
Russell's Official Facebook Page announces that Radio Merseyside will present an interview with Russell from the International Mersey River Festival at 3pm on the Jimmy McCracken show though it seems from the schedules that Jimmy is sitting in for Helen Jones tomorrow, not today, which makes more sense (the Festival started today).
Listen Live on RadioPlayer.
11th June 2014
Russell was on BBC Radio 4 this morning and his contribution can be heard as a "podcast" for the next 7 days.
There's also a lovely picture of Russell with Kirsty Howard, taken some years ago, on the Facebook Page of CityLife Manchester by way of advertising the function to present Kirsty with an Outstanding Achievement Award.
Tickets to this event are expected to sell quickly so, if you're interested, call
0161 236 0500  or  visit www.variety.org.uk
9th June 2014
The votes have been counted and Russell has posted the list of fans' Top Twenty favourites on his Official Facebook Page…
7th June 2014
On Twitter, Russell asked, "I'm thinking about doing some xmas shows this year ! What type of venue do you think would make an ideal xmas concert location ? X" and later on Facebook, "I'm thinking of doing some Xmas dates this year !! What do you think would make the ideal location for a Christmas show ?" 
6th June 2014
Russell called a close to letting him know our favourite tracks at 4pm yesterday and has said that he'll announce the Top Twenty at noon on Monday (9th June).  Could we be looking forward to a double-album?
4th June 2014
This morning, Lyn Staunton – Director of Variety, the children's charity – Tweeted, "RUSSELL WATSON announces he will perform @VarietyGB evening honouring Kirsty Howard GET YOUR TICKETS 20th Sept. pic.twitter.com/492QhX902C"

We haven't yet seen Russell's own confirmation but this prestigious event to honour Kirsty Howard's marvellous work for Francis House Children's Hospice is reported on Variety's website and Russell, as you'll no doubt know, is a patron of the Kirsty Club.
The link for tickets is at the foot of Variety's report.
:
A post on the Facebook page of Taylor Lynn Corporation provides more information and credit to the report of Russell's involvement.
30th May 2014
Russell Tweets :
See more in the post.
29th May 2014
Russell invites us all to look at his Facebook page where he's going to add some nostalgic photos…
27th May 2014
Russell appears to have opened a dodgy link in a Tweet and got himself a virus.  His account is sending out short  messages with spurious links attached.  Please be very careful about opening anything from him that looks unusual.
https://twitter.com/Russellers/status/471290215630639104
22nd May 2014
Having already asked on Twitter, "What's your all-time favourite song that I've recorded and what song would you most like to hear on the next CD ? #newideas", Russell now poses the same question on his Official Facebook page.  If you couldn't respond to the Tweet, now's your chance to let him know through Facebook.
16th May 2014
On Twitter Russell intimates it's time he was thinking about his next album and asks, "What's your all-time favourite song that I've recorded and what song would you most like to hear on the next CD ? #newideas".
Replies direct to Russell on Twitter, please, or maybe on his official Facebook page if you can't Tweet.
+
Tickets for the Grand DéParty in York are now on sale.
13th May 2014
The City of York council is advertising that Russell is to top a star-studded "Grand Départy" concert there on Friday 4th July 2014 ahead of the start of Stage 2 of the Tour de France (York to Sheffield).
Tickets to go on sale this coming Friday, 16th May, via TicketLine.
10th May 2014
If you missed it over Easter, Sky Arts 2 will again be showing Russell's fantastic 2011 'Return Of The Voice' concert from the Royal Albert Hall tomorrow morning, 11th May 2014, from 8am.
9th May 2014
According to Armonico Consort, Russell will be joining 600 of their AC Academy's young singers at Birmingham Symphony Hall on Monday 14th July for a concert of globally inspired music.  You may recall that Russell supported their "Around The World In 18 Tunes" concert at the Royal Albert Hall in March last year.
8th May 2014
Sadly, it was confirmed this afternoon by HomeGround Projects that both the Edinburgh Playhouse and the London Palladium charity concerts have had to be cancelled. Ticketholders will be refunded.
This is really a shock, particularly as we understand how much effort has already gone into preparing for these events and that Russell was so keen for them to be a success for the charities concerned.
16th April 2014
The final show of the Tour last night almost didn't happen. Russell suffered from tonsillitis and the start was delayed by a good half-hour. There have been mixed comments about the performance on Twitter and Facebook but, overall, they have been mainly positive. There are pictures on "isopix", "Other Images" (you'll need to enter Russell's name in the search box) and "Rex Features".
+
Russell Tweets, "Thank you so much to everyone who supported me on my U.K tour. It's been magical and one of my favourite tours to date. Love Russell Xx"
13th April 2014
Tickets for HomeGround's Charity Concert starring Russell at the London Palladium now available from See Tickets.
+
The penultimate concert of the Tour tonight at Oxford but for those who can't travel South for the last two venues, here are a few pictures of Russell at Sinah Warren last week.
10th April 2014
Jane Witherspoon catches up with Russell outside Brighton Dome for a brief chat on BBC1's  South East Today…
5th April 2014
Russell Tweets, "Wow thanks to you all we are currently No1 in the Amazon Classical Charts with The Homeground Anthem. Thanks for the amazing support!"  but doesn't mention that his own album has quietly moved up the Opera & Vocal Chart to take #1!
Quite a 'double'!  Well done, Russell.
31st March 2014
The HomeGround Anthem is officially released today and can be had as a real CD or as digital downloads in both  MP3  and  AAC  (iTunes) formats.
+
At Liverpool, Russell was made very welcome, as always, in the "cosy" (as one visitor from Japan called it) Royal Philharmonic Hall and he responded by including You'll Never Walk Alone while still managing a smile.
See the Hall's Facebook page for several more great pictures.
29th March 2014
Russell was (almost) on his own HomeGround at Blackpool Opera House for the seventh concert of the #OnlyOneMan Tour.
24th March 2014
Another brilliant concert at the Symphony Hall, Birmingham.
22nd March 2014
Rob Emery's birthday and he's working his socks off at the Cardiff concert.  Haven't yet found a 'proper review' (eg newspaper or blog) but Gareth Griffiths' Facebook album has some great photos.  Here's one…
21st March 2014
Russell's 'sold out' performance at Nottingham is reviewed by Alex Belfield on his 'Celebrity Radio' along with an audio interview (split into two) via YouTube.  Local paper, the Nottingham Post  also has a review by Tanya Ralbould.
Several great pictures are posted on Twitter, particularly by Sharon (@the_shazzie_one) Moore (above – thanks).
20th March 2014
Russell is on page 29 of the Daily Express in an interview with Simon Edge
19th March 2014
Russell, to use a modern phrase, "nails it" on the first night of his new Tour at Sheffield City Hall
18th March 2014
Russell appeared on The Alan Titchmarsh Show and said that he was already planning his next album that he proposed would see a return to the big operatic songs for which he had originally become well known.  To close the show he performed  The HomeGround Anthem, live, reportedly with 12 members of the Welsh Guards Choir although they must have been fresh back from camouflage and concealment exercise.  Look for them while the programme is still available on ITVPlayer (until 11th April).
16th March 2014
David Allen's show can now be heard on the 'Listen Again' facility for the next week and The HomeGround Anthem can be found about the 1 hour 46 minutes mark with a preamble before it's played.
15th March 2014
This evening, David Allen played The HomeGround Anthem in full on his BBC Radio Solent programme.  It should become available to 'Listen Again' overnight and can be found around the 1 hour 47 minutes mark.
14th March 2014

ComingHome.org, one of the charities supported by HomeGround, posts a new video to YouTube of the press call at the Union Jack Club where Russell accepted the challenge of becoming an ambassador for their work.

:
12th March 2014
Russell and Simon Weston explain to Neil Sean in a YouTube video interview just why they believe it's important to commemorate the centenary of the beginning of  the First World War by stressing that it is a commemoration, not a celebration.

:
11th March 2014

An early start and no razors in his hotel, by the look of it, but Russell joined Simon Weston in ITV's Daybreak studio to briefly talk about the HomeGround Anthem with a short clip from the promotional video.
In the afternoon Alan Clifford of BBC Radio Nottingham played a recorded chat with Russell, piecemeal, throughout the show from 4pm – 7pm, though the majority was from shortly after 6pm.  Available on 'Listen Again' for 7 days.  Scroll to (approx.) 16 minutes 45 seconds and then 2 hours 16 minutes 45 seconds.
10th March 2014
Russell lets it be known on Twitter that he and Simon Weston will be on ITV's 'Daybreak' programme in the morning, Tuesday 11th March, to talk about the HomeGround project.  They're expecting to be on air around 7.40am.
Nicola Lisle interviews Russell for a feature to be published in the Oxford Times, probably on 3rd April, ahead of his concert at The New Theatre, Oxford.
6th March 2014
Russell lets it be known on Twitter and his own Facebook page that he'll be on The Alan Titchmarsh Show on Tuesday 18th March, ITV1 from 3pm, when he'll be performing the HomeGround Anthem.  Print off the lyrics and sing along.
4th March 2014
The MP3 version of The HomeGround Anthem is now available to pre-order on Amazon.co.uk with brief preview clips of each of the three tracks.
3rd March
Liz Joyce's interview with Russell is now available, free of charge, via NativeMonster.com
2nd March 2014
Liz Joyce of the Wolverhampton-based "Express And Star" recently interviewed Russell for a feature in their paper's "The Weekend" section published yesterday, Saturday 1st March, that is available to view as a digital edition (PDF) for a 69p subscription.
It will be available to read, free, online from tomorrow, Monday 3rd March, on their sister website, NativeMonster.com.  From tomorrow, it should also be possible to order 'real' printed copies of the paper as a 'back issues' from 01902 313131.
28th February 2014
Russell offers an "exclusive" pre-sale (pre 3rd March) for tickets to his concert at the Old Royal Naval College in August.
25th February 2014
The digital (PDF) edition of Army&You Magazine's Spring Edition is now available to read, free, online and Russell is featured on the front cover and over pages 36/37 where he talks about supporting Service personnel through the HomeGround Anthem and the charity concerts at Edinburgh and London.
+
Later in the day HomeGround Projects provide details of the release of the HomeGround Anthem.  It's to be available as a download from 31st March and there's also to be a CD version that includes a reading by Simon Weston OBE of Wilfred Owen's Strange Meeting.
Watch the promotional video.
+
Russell is also featured in Places & Faces Magazine for March (#48) over pages 20/21 talking about the forthcoming Tour – at Ipswich Regent in particular – and the HomeGround Project.  This is a regional magazine but can be read, free of charge, online.
For those who prefer to have a printed edition, the publishers have kindly agreed to supply  copies, without the need to take out a full year's subscription, for just £2 per copy to cover postage.  Send your name and address with a cheque payable to H2Creative Media Ltd  to cover the postage cost of however many copies are required to
H2Creative Media Ltd
Beacon Innovation Centre
Beacon Park
Gorleston
Great Yarmouth
Norfolk
NR30 5EP
+
Online entertainment magazine E-mag  reports on a forthcoming album Inspirato by internationally renowned musician 'Yanni' that features some of the world's most extraordinary voices; Russell sings Incanto.

Perhaps because the report appears to stem from New York the release date for the album is given as April 29th while Amazon.UK  lists it as being available on 24th March via their pre-order scheme.  There are brief preview audio clips of all the tracks available on Amazon's MP3 page.  Russell's Incanto is Track 8.
+
Following the Duke of Edinburgh's International Award "Icons" Dinner at Spencer House on 10th February, there's now a brief report of the evening on their 'News' page.    It's interesting to see Russell's choice of song…
24th February 2014
Russell is to perform at the Old Royal Naval College on the banks of the River Thames on Friday 22nd August as part of their "Music On The Meridian" Greenwich Music Time festival.   Local residents will have priority booking and general ticket sales will begin on Monday 3rd March.   Please note : It says "Prices from £247.50" but it should be from £37.12 up to £247.50.
22nd February 2014
Russell has been entertaining at a wedding reception in Kuala Lumpur and the following video has been posted to YouTube of him singing I Dreamed A Dream.  With thanks to Roger Wang.
+ 
Army&You Magazine's spring edition is to be published on Tuesday 25th February and will feature Russell's vocal support for Service families according to their Facebook and Twitter…
21st February 2014
Russell is a guest of Andy Potter on BBC Radio Derby.  You can 'Listen Again' to their chat for the next seven days.  Scroll to about 12 minutes in.
14th February 2014
Edinburgh Playhouse Tweets a change of date for Russell's 'Home Ground' charity concert from Saturday 17th to Saturday 31st May.  No reason is offered but all patrons will be contacted (it says).
The change has already been reflected on ATG Tickets' website.
Later in the day Russell Tweets a bit of an apology for whatever's happening over the Edinburgh Playhouse concert… "We are trying to work the Edingburgh concert out . Bare with us until monday , when we will make an announcement #sorry"
12th February 2014
Natasha Marsh joined Russell to sing The Prayer at a memorial service in London for the late, great Simon MacCorkindale.
"Russell Watson & Natasha Marsh sing 'The Prayer' at a Celebration of the Life of Actor Simon MacCorkindale arranged by Susan George at The Actor's Church Covent Garden on 12th February 2014. Filmed by Liam Galvin, Franco Veneziano & Yvette Rowland."
11th February 2014
Liz Joyce of the West Midlands newspaper "Express & Star" interviewed Russell today and made a lovely comment on Twitter –  "Officially the nicest – and most northern – man in showbiz."
The interview is likely to be published in their 'Weekend' section on Saturday 1st March and be available to buy as a Digital Edition on a 'one day pass' for 69p.  It will be available (free) online via 'Native Monster' from Monday 3rd March and from that date it will also be possible to order a printed copy of the paper as a 'back issue' from 01902 313131.  
4th February 2014
Caroline Bishop's interview with Russell that was published in France magazine is now available to read (free) online.
The Mail Online carries an edited report on Russell and Louise's engagement.
3rd February 2014
Congratulations are in order!  Russell proposed to his girl-friend Louise over Christmas and their engagement is announced in the press today.  There's supposed to be a full feature in this week's Hello magazine issue #1314 with Kate Middleton and Prince George on the cover (out tomorrow Tuesday 4th February). Not available online yet.
Russell Tweeted a picture of Louise and him together…
2nd February 2014
Jonathan Shalit, Russell's former manager and current manager of Jonathan & Charlotte, confirms the pair are to go their separate ways and that Jonathan will join Russell at all but three of the venues on his 'Only One Man' Tour.  See our post for the press release.
1st February 2014
News from The Katy Homes Trust indicates that over £36,500 has been raised from Russell's charity concert at Preston Guildhall in December.
Russell had some help from friends, including Rob Emery, Jon Antoine (pictured), Nina Fahey and all the Guildhall staff who gave their services free of charge.
The Trust doesn't simply rely on the efforts of others and Paula Holmes is constantly on the look-out for opportunities to promote the cause and raise funds herself.  She recently had a meeting with government officers and is planning on scaling Kilimanjaro in August.
30th January 2014
The 'Auction' page for the fundraising event by Do You Hear The People Sing? is now active and amongst the lots on offer is a special evening for two at Russell's Royal Festival Hall concert on 15th April, including a 'meet and greet', that it appears he has kindly donated.  The auction is being run in conjunction with two charity concerts in Manila.  See their Facebook Page for more.
28th January 2014
According to 'BusinessWorld Online', exclusive 'meet and greet' opportunities with Russell and others are to be amongst the auction lots to be offered as part of a large fund-raising project in aid of victims of November's hurricane Yolanda in the Philippines.
It is intended that the auction will be available internationally but, at the moment, the 'Auction' page isn't active; in fact, the link has been removed as this post was being typed.
The principal page about the project shows that Messrs Schonberg & Boublil have approved the staging of a charity concert called "Do You Hear The People Sing?" based on their works of 'Les Miserables', 'Miss Saigon' and other shows with stars like Lea Salonga giving their time to the concert free of charge.
24th January 2014
Ahead of the March 31st concert at the Royal Liverpool Philharmonic Hall which, incidentally, is about to embark on a multi-million pound make-over and extension, Russell The Storyteller relates his meeting with Claude-Michel Schonberg to  Catherine Jones for the Liverpool Echo…
20th January 2014
The Cheshire Life magazine article, "Russell Watson's country life in Wilmslow" from their January edition is now available to read, free of charge, online.  The accompanying pictures from the printed and PDF versions, plus several more, are in a separate gallery.
The Duke Of Edinburgh's International Award announced via Twitter that Russell would be joining them for a prestigious "Icons Dinner" at Spencer House in London on Monday 10th February.
15th January 2014
Phil Kennedy on BBC Radio Berkshire played a brief recorded chat with Russell that was really not much more than an advert for the forthcoming concert at Oxford New Theatre (13th April) but it was closed with a play of Bring Him Home that's always nice to hear.  Available on BBC iPlayer until 21st January
10th January 2014
The Birmingham Mail posts an interview with Russell that focuses on his meetings with Claude-Michel Schonberg and Alain Boublil, and on his self-confessed addiction to tennis.  He also gives a nod to his fans, saying, "… I do like the name Russellers.  Although if it's raining they could be Rusty Russellers."   Don't forget to pack the 3-in-1 for the next picnic concert!
9th January 2014
Under the headline "Mark Of Respect" Let's Talk, the Suffolk-based magazine, posts an interview with Russell that touches on Home Ground, World War I, The Katy Holmes Trust and the forthcoming concert at Ipswich Regent. This was in the printed edition of the magazine (January 2014 #136) as we reported below on 11th December 2013 but is now available to read, free of charge, online.
8th January 2014

Wayne Savage's interview with Russell for the Ipswich Star (and East Anglia Daily Times)ahead of the concert at the Ipswich Regent is posted online where it can be seen free of charge.
+
Caroline Bishop's interview with Russell for France Magazine is published in their February edition, out now, in the shops and online.
7th January 2014
Over on Twitter, Russell says, "It would be great if we can get as many people as possible following @HOMEGROUNDPROJ  More details of the single will be revealed soon".
So, if you're on Twitter, please do consider following them and, maybe, re-Tweeting him.
You can learn more about their work from their website where you'll also find links to the other charities such as the Falklands Veterans' Foundation and Coming Home that they support. You'll also find more news about, and the words to, the Homeground Anthem…
+
And then, again on Twitter, Russell asked, "What is everyone's New Years resolution for 2014? X"
but he hasn't said what his own might be.

Archived News : 2013                                                                 Latest News (2015) ->